Mylar Blankets for Homeless, Camping, Hiking, Car, Truck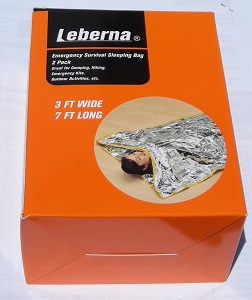 Waterproof and windproof this Mylar Thermal material retains / reflects back 90% of body heat.
These survival sleeping bags are reusable and can be folded to a very small size.
Extra large in size, the Leberna Emergency Survival Mylar Thermal Sleeping bag is 84" long and 36" wide.
Intended as an emergency shelter it is also great for camping, hiking, sleeping in your car or SUV and just general protection from the cold outdoors.
This Leberna Mylar thermal sleeping bag comes with 2 packs in one box. Each sleeping bag weights on 2.8 oz and has its own carry bag with draw string.
Available Online at: Amazon Ebay

Emergency Lightweight Mylar Thermal Blankets, Sleeping Bags and Tents for the Homeless, Camping and Hiking, In Your Car, Truck, Runners, Emergency Survival and more...
Many people buy these lightweight, waterproof Mylar blankets , sleeping bags and tents for their outdoor camping and hiking adventures. Survivalist will buy them to have on hand to help survive any emergency where body warmth is needed. These lightweight Mylar blankets are also used by runners after marathons. Another use for these Mylar blankets, sleeping bags and survival tents is for the homeless person or to give to the missions for the homeless.
For some people survival is an everyday concern and staying dry and warm while sleeping on the streets on cold and wet nights can be a real challenge.
You don't have to know a homeless person to help them with staying warm on the streets. Simply provide a few of these lightweight mylar blankets, sleeping bags or even tents to your local shelter or one of your local churchs that maybe has a lunch kitchen for the homeless. During really inclement weather they can share these with those who they think will need them for that evening.
Another place to keep these items on hand is in your storm shelter facility, be that at your house or just in your community. In addition, consider keeping a mylar blanket in your car for insulation during those times when you might be stranded during bad weather.
The mylar material is very thin. This is how it was designed by NASA for space exploration. As a result the blanket or sleeping bag can be big, yet be folded into a very small size for storage or carrying in a backpack.
Kangaroo Large Emergency Thermal Heat Blankets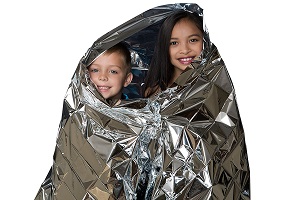 Retain 90% of body heat with one of these waterproof and weatherproof large mylar emergency / survival warming blankets.
Great for staying warm after a disaster, sleeping in your car, camping, hiking and sleeping on the streets when homeless.
Folds up small for storage or carrying and weighs in at just .8 lbs.
Roomy mylar blankets that measure 54" x 84".
These emergency blankets are disposable. But, you can use them as a ground cloth before you throw them away.
Keep a box of them in your car and hand them out to people on the streets that you see during really cold weather.
Take one along to an outdoor concert on cool evenings.
more...
Survival Shack Temporary Emergency Shelter Tents
All weather lightweight, waterproof, reflective material Mylar 2 person thermal shelter emergency tent.
A compact, lightweight, reusable tent that packs easily for camping, hiking, hunting emergency supplies and in a backpack of the homeless sleeping on the street.
Room for 2 adults. Size 8' x 5' .
Sets up in minutes. Separate the rope and shelter, then unfold the shelter tent and lay it flat on the ground. Open the shelter to run rope through both ends and tie to a sturdy object approximately 3 to 4 feet off the ground.
Survival Shack Waterproof Mylar camping Tent keeps you warm, dry, safe and is windproof and reusable.
Mylar thermal material designed by NASA to reflect 90% of body heat.
more...
Mylar Thermal 2 Person Emergency Sleeping Bag
<!!-- End of div before img-container -->
Generously accommodates 2 adullts.
Size: 64" x 87" .
This sleeping bag is made of durable insulating mylar material designed by NASA for space exploration.
Reusable, waterproof, windproof 2 person emergency mylar sleeping bag survival blanket.
During a blizzard you will love this emergency survival sleeping bag.
Retains / reflects 90% of body heat which can prevent or counter hypothermia.
Many people keep one in their truck or car for emergencies, others take these emergency sleeping bags with them hiking, camping, hunting, give them to the homeless and / or add them to their bug out bags.
more...
TITAN Two-sided Mylar Emergency Survival Blanket
This TITAN blanket features an exclusive patent-pending Woodland Shrowd camouflage pattern on one side and highly reflective silver Mylar on the other side.
These durable advanced aluminized Mylar warming blankets are reusable, windproof and waterproof and can also be used as ground cover.
Each 52" x 82" survival blanket is individually folded, wrapped and sealed for easy storage, transport and retrieval in your home, car, truck.
These mylar warming blankets are perfect for Camping, Marathons, Backpacking, the Homeless, Emergency kits and Go-Bag or Bug-out Bag gear.
Also available in Safety Orange and Olive-Drab colors.
Sold by an American Veteran-Owned business with Lifetime Guarantee.
more...
TITAN Extra Thick Emergency Mylar Sleeping Survival Bag
The TITAN emergency mylar sleeping bag is made from a proprietary non-toxic polyolefin film.
Originally designed for heat retention during NASA space exploration, the TITAN proprietary aluminized Polyolefin sleeping bags are safer, thicker, softer and quieter than many of the competition's mylar sleeping bags.
Each sleeping bag is designed to help prevent hypothermia and shock by retaining up to 90% of your body heat.
Each 31" x 86" emergency sleeping bag is tear-resistant, reusable and can be rolled and stowed in the included olive-drab Nylon drawstring carry bag.
Colors: Dark Earth, Safety Orange, Woodland Shrowd.
Keep on in your car or truck. Never know when this survival blanket may come in handy for that blizzard on the highway.
more...
Grabber Outdoors Space All Weather Blanket / Emergency Tarp
This is a tarp / blanket to use as a shelter for preventing hypothermia.
Dimensions: 5' x 7'.
Weight: 12 oz.
Amazingly tough laminate of fiber scrim on one size and aluminized plastic on the other.
Reflects back up to 80% of body heat.
Grommets in all corners.
Lightweight, waterproof, ultra thin and easy to pack and carry.
Keep in your car or truck for whenever the need for warmth arises.
A lot of elderly people with arthritis like to use one of these space blankets on their bed at night because they can get warm so much quicker than with a regular bed blanket.
Easy to wipe or rinse off to keep clean.
Colors: Blue, Olive, Orange and Red.
more...
What's In Your Survival Kit
July 14, 2023 - In this day and time many people have a Go-Bag or Bug-out-Bag with supplies to tide them over during catastrophic emergencies.

Stop and give some thought to what you would do if a tornado or hurricane did major damage to your home, if you were displaced due to flooding, if an earthquake happens or even if the electricity is off during blizzard conditions. Will you have clean water, a way to stay warm, food to eat, dry clothes, dry shoes, a way to charge your cell phone and some type of shelter from the elements.

Many people when preparing their survival items are thinking more about the end of the world than everyday events where they might need some of these items to survive.

It is good to have items in a grab and go bag but also think about items you might need in your home if you have no power, heat or water.

Here is a list of survival items to consider:
Bottles of Clean Water
Flashlights and Rechargeale or Solar Lanterns
First Aid Kit
Cell Phone and Solar Cell Phone Battery Charger
Some of the Mylar blankets, tents and sleeping bags shown above
Waterproof matches
Camp Axe
Emergency Candles
Whistle
Helmet for everyone in the family
L. E. D. Headlamps
Extra Socks - maybe even heated socks
Hard sole shoes
Fire Extinguisher
AM / Weather Radio
Gun and Ammo
Rain suit or Poncho
Multi-Vitamins and Medications
Plastic Trash Bags
Eating and Cooking Utensils
Scissors
Personal Identification Papers
Dust Mask
Cash
Rubbing Alcohol
Manual Can Opener
Energy Bars
Hand Warmer Packets
Duct tape
Plastic Freezer Bags
Pet Food and Bowls
Gasoline for the generator unless it is a Solar generator
more....


This list is provided to just prompt you to take a minute and think about your situation. Do you have children, pets, elderly parents? What will you need for them. Is anyone on medications that you will need to have available.

Take a few minutes to give all this some thought. Don't wait until you actually need it. Then begin to put your list of items together and add to it as you think of other things.
Survival for many is not just after an emergency. The homeless face just trying to survive every day. Consider giving things like Hand Warmer Packets, Inflatable Air Mattresses, Comfortable Inflatable Pillows, Mylar blankets, tents and sleeping bags and small flashlights to homeless shelters to help a homeless person survive. Many missions do not have enough beds for the homeless each night and many are left to sleep on the streets, sometimes in very inclement weather. A lightweight Mylar Survival blanket, sleeping bag or tent could do wonders for keeping these people alive.
"This post may contain affiliate links for which I could receive a commission."
---
These lightweight mylar survival blankets are extra large blankets made to fit your entire body during emergencies. These emergency thermal blankets are folded into tightly packed waterproof laminate bags so that you can carry them separately. These survival blankets have different colors on each side. The silver side retains 90 percent of your body heat where the green side only retains 65 percent. This way anyone can regulate their temperature based on the particular situation. If camping or hiking out in the woods the green side will help camouflage your body if you need to blend in.
View More Information and Purchase Online At: Amazon.com