Outdoor Family Camping Tents with Electrical Access Port ( ePort )

Even though you are camping out you don't want to give up all your city comforts, like electricity. If you are pitching your tent at a campground more than likely electricity will be available to you or if you carry a portable generator with you then you will want to bring that electrical cord in the tent to enjoy the use of that power.

These tents have electrical access ports (eport) that allow you to bring your electrical cord outlets into the tent without any hassle.
Coleman Montana 6 Person Family Tent with Eport for Electricity
Designed for easy setup the Coleman Montana 6 Person Family Tent has and electrical access port to allow you a power hookup while camping.
Sleeps 6 people comfortably with a 12' x 7' footprint and center height of 5'8".
Coleman's Comfort System allows control of airflow with Variflo adjustable ventilation.
Setup is a breeze with the continuous, color-coded pole sleeves, an exclusive pin-and-ring design and InstaClip attachments.
A large hooded awning over the front door provides airflow for cross ventilation as well as a nice place to lounge out of sun or rain.
Polyester fly is tough and durable.
more...
Tahoe Gear Olympia 10 Person Camping Tent with Electricity
Sleep up to 10 people in this Tahoe Gear Olympia Dome Tent.
Power slip near door allows for easy electrical power cord access inside your tent.
Floor vents provide additional ventilation at the sleeping level.
Assembled Dimensions: 18' W x 10.5' L x 84" H.
Coordinating 1200mm polyester fly with taped fly seams and polyethylene binding floor helps to provide water resistance in varied conditions.
Fly canopy extends out over the door for extra coverage during rain or to shade the doorway.
more...
Coleman Tenaya Lake Cabin Tent with Eport and Closet with Shelves
This 8-person tent is a little unique in that it has a built-in closet with shelves and hanger bar to help organize your clothes and gear.
This Coleman cabin tent has up to 50% faster setup than a comparable standard Coleman tent with conventional setup.
Fast Pitch™ system with pre-attached, color-coded top poles and hub, fast fit feet and snag-free Insta-Clip™ suspension.
Room for 8 Persons.
E-Port makes it easy to bring electrical power inside your tent through the electrical access port.
Room for 2 queen sized beds.
Hinged door for easy entry and exit.
more...
Alvantor 4 Person Family Camping Tent with Electrical Access Port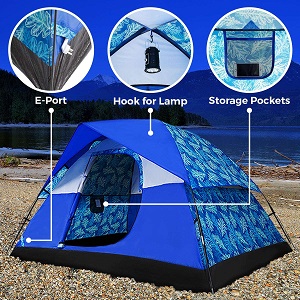 This tent's unique oak pattern makes your tent stand out from the crowd.
Sleeps up to 4 persons and has internal storge pockets and hook for tent light.
Zippered electrical cord access port allows for easy power cord access inside your tent.
Easy set up and take down in just minutes. Convenient continuous pole sleeve construction.
Tent measures 9" x 7" x 5'5" H.
A large rear hooded windo and a ground vent provide maximum ventilation and comfort.
Deep tu floor made of durable and thick PE tarpaulin is good when pitching your tent on hard surface.
more...
Core 10 Straight Wall Tent Electrical Cord Access Port
This tent has an electrical cord access port which is fully closable when not in use.
Have lights, fan, etc. from your electrical cord supplying you electricity from your outside generator.
Tent has gear loft with lantern hook and pockets to help you stay organized.
Fits 2 queen air beds and sleeps 10 campers.
Included room divider for creating a two room tent.
Front and back door access.
Tent purchase includes tent, tent poles, gear loft, rain fly, room divider, tent stakes, expandable carry bag and 1 yr. Limited warranty.
more...
Ozark Trail Camping Tent Combo with Electrical Cord Access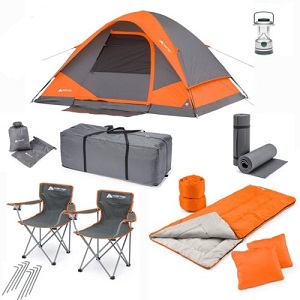 A great camping combo kit for everything you'll need for an escape to the great outdoors.
The tent sleeps up to 4 people in sleeping bags or fits one queen-sized air mattress.
Stay organized and connected in the tent with included gear loft, gear pocket and eport for electrical cord access.
Sleep cozy with the 2 included sleeping bags, pillows and foam sleeping pads.
Two folding camp chairs with mesh cup holders are perfect for relaxing around the campfire under the included LED lantern.
more...
Ozark Trail Big Cabin Tent, Loft, Electric AC Access Port
This Big Cabin Tent has large windows on all sides and a room divider to make separate living and sleeping spaces.
This tent features a gear loft, electrical cord access port and has a tall center height that allows for plenty of headroom for tall persons.
Cool Riser Technology provides a system of lower mesh vents to draw cool air in from the base and hot air out the roof for cooling comfort.
Comfortably fits 2 queen air beds or up to 10 campers in sleeping bags on the floor.
Dimensions: 14' x 10'.
Factory welded 6" tub floor.
more...
Ozark Trail 12 Person 3 Room Cabin Style Tent with Electric Hook Up Port
This 12 Person Ozark Trail instant tent requires no assembly because the poles are pre-attached to the tent, just unfold and extend.
This cabin style tent has large windows on all sides and a large awning on the front.
It will comfortably fit 3 queen airbeds or up to 12 campers in sleeping bags on the floor.
Create up to 3 rooms with the provided room dividers.
Handy Electrical cord access port for electrical outlets.
Features 2 entry doors.
8 fully closeable windows.
more...
Ozark Trail 11 Person 3 Room Cabin Tent with Electric Access Port
This Ozark Trail 14' x 14' Instant Cabin Tent features an open cabin area with an extra attached back room.
This unique cabin style tent features a large front awning to help protect the entry from rain and sun.
Has a 76" ceiling height for ample headroom.
With the included room divider and the back room you can have three separate living spaces.
With poles pre-attached to the tent, simply unpack, unfold and extend for quick setup.
Electrical cord access port to make electrical outlets available.
more...
---
9 Camping Tents with Eport at a Glance...
Cabin Design Coleman Montana Family Tent 6 Person with Eport for Electricity and Large Hooded Awning over front door
3 Season Tahoe Gear Olympia 10 Person Dome Camp Tent with Electric Power Hook and Floor Vents for Ventilation
Coleman Tenaya Lake 8-Person Cabin Tent with Power Port and Built-in Closet with Shelves for Storage.
Alvantor 4 Person Family Camping Tent with Electrical Access Port
Core 10 Straight Wall Tent with Electrical Access Port for Electrical Cord and 2 Access Doors.
Ozark Trail Camping Tent Combo with Power Port for Electric Hook Up, Sleeps 4 Persons, Includes LED Lantern, 2 Sleeping Bags, etc.
Ozark Trail Big Cabin Tent with Electricity AC Port and Tub Style Floor
12 Person 3 Room Ozark Trail Cabin Tent with Electricity Access Port
11 Person 3 Room Ozark Trail Instant Cabin Tent with Eport Access for Power, Large Front Awning and Tall Ceiling Height.

Essentials For Enjoying Your Camping Fun
May 25, 2023 - There is nothing better for reseting and letting go of the hustle and bustle of everyday life than to go camping and enjoy some time out with mother nature. To truly make your outing a relaxing adventure you will need to go prepared with the basic camping equipment necessary so you can stay safe, be comfortable and enjoy your outdoor adventure.
It you are a camper beginner or have young children you may want to start out camping at one of the groomed state or national sites and parks so you can enjoy the beauties of nature but not feel so alone.
No matter if you are camping in a park, or in the wilderness, you will want to have a good night's sleep. Choose a good tent that is easy to setup and a sleeping bag approriate for the weather conditions so you can have a comfortable night's sleep. Don't go by the weather where you live. Check the weather for the nights where you are planning to camp out.
Rather than bringing your pillow from home invest in a inflatable camping pillow. It takes up less space while traveling and your home pillow won't get stained. Some of these camping pillows are meant to fit perfectly into sleeping bags also.
Take some time and plan out your meals you are going to have on your camping trip. This way you don't waste space when packing and you also will know what cookware, utensils, etc. that you will need to carry along with you. Whether you use a camp stove or open fire while cooking each method requires some thought about the tools and fuels you'll need to get those meals prepared.
Some camp sites will provide a picnic table but if not you should carry along a lightweight collapsible camping table. Otherwise, you might find yourself eating off the ground. And, of course, if you have to use a camping table you will need some chairs as well.
Other items you will want to decide if you might need to take along in order to make your camping experiece fun:
Camping Cooler to store drinks and food.
Fresh Bottled Water
Water cooler for drinking water.
Camping lantern and / or flashlight.
Broom and Dustpan.
Extra batteries.
First Aid kit for minor cuts and scrapes.
Sunscreen and Mosquito Repellent.
Medications.
Books for some quite reading time.
If you are going to a campground with electricity and your tent has an eport, don't forget the electrical cord from your generator.
When camping in cold weather take along some battery heated gloves or a heated vest for a warm and comforable stay.
Hopefully this list will give you some "food for thought" about what to pack for your family camping adventure so you can make it a happy event for all.