Kids Best Nature Outdoor Explorer Kit for Fun and Learning
Kids love to explore when outdoors in nature . They love to look at birds, bugs, animals, trees, the sunrise and sunset. This Nature's Explorer Kit is a 9 in 1 educational gift set for your child to have fun exploring the great outdoors. This outdoor explorer kit's exciting packaging, useful tools and unique and practical case will quickly motivate your child to run outdoors and explore everything that nature has to offer.
Inside the carrying case they will find a pair of binoculars (4 x 30mm), perfect for bird watching and spying on the squirrels or other faraway animals. They may just like to take a closer look at the valleys or mountain ranges. These binoculars are made from quality shockproof rubber and include eye-protection and neck strap for easy carrying while in use.
With the pocket sized magnifying glass kids can study insects more closely. They may also use it while you teach them how to read a map. A self energizing flashlight recharges itself every time you crank the handle without need for batteries ensuring light so your child can still have fun even after dark.
Use the battery operated (included) handheld fan with safe soft wings to cool off on hot summer days
Also included in the explorer kit is a multi-tool with five functions: Compass which is perfect for learning basic directions, Thermometer to learn about Celsius and Fahrenheit with the included guide, Whistle to use for fun when playing outdoor games, Instant Flashlight and additional specialized Magnifying Glass.
All these exciting explorer tools come in a quality case for carrying and storing. The case opens easily and closes tightly with the lock mechanism. Each tool comes within its own box in the case. The case has a cute children's nature design adding to their joy.
Great Christmas or Birthday gift for a boy or girl, or if you are about to go camping with your little one, take this Kids Explorer Kit along with you. Recommended age group is 4 to 7 years of age.
Available Online at: Amazon.com
---
Teaching Kids About Nature
Mother Nature
June 26, 2022 - Mother nature is a great teacher and getting children outside to breathe some fresh air is good for their health and emotional well being. Teaching children all about the environment is crucial so they can understand the importance of taking care of it as they grow up. You don't have to go out into the woods to start teaching your children about nature. Take a walk in a park with your kids and point out flowers, trees, birds, squirrels and even insects. Take your child out in the back yard after dark and show them the stars and the different shapes of the moon. During the day explore the insects and various plants in your own yard. The different seasons have different things to learn about. For instance, you don't usually see butterflys all year round.
Learning The Insects
When outside with your child give them time to explore for insects. Get an explorer kit for them to use and let them use the magnifying glass to insect the insects life up close. Tell them the names of the bugs and what part they play in nature.
What Was That Sound
When walking in the park or a wooded area teach your child to listen for the sounds around them. Within city life we have become so accustomed to tuning out the noise that we also tune out the nice sweet sounds of life. There will usually be different birds singing, squirrels chatting and even the trees singing as they sway in the wind. See if your children can stop which animal is making which sound.
What Color Is That
There are beautiful colors all around in nature. The leaves of trees turn different colors throughout the seasons. Flowers bloom into single or multiple colors of glorious beauty. The sky is different shades of blue on clear days and gray on stormy days. Point out things in nature and have your child tell you the color. Maybe discuss the fact that it was a different color a week ago and why.
Water Fun
Kids also love playing in water. It may just be a mud puddle. If you have a swimming pool or have access to some calm water out in nature then consider using an inflatable pool boat with oars to gvie them some water fun.
Always Exploring
Exploring nature with kids is relaxing and a lot of fun for both you and them. Kids ask a lot of questions. If you don't know the answer then just say well lets find out together and then let them help you research the answer at the library or on the internet.
---
Open your childs eyes, ears and emotions to all that nature has to offer with this 9 in 1 Outdoor Explorer Kit which is set in a beautiful carry case. Kids can use the binoculars to get a close up look at beautiful birds, frisky squirrels, deer, bear and more while you are out with them camping or hiking. With their magnifying glass they can get a close up look at bugs or ants as they go about their daily routines. With this outdoor explorer kit kids can do so many things. It can also just be having fun exploring nature in their own back yard.
Read Reviews and Buy Online At: Amazon.com
Toddler Camping T-Shirt
Fred and Ted Go Camping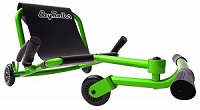 Outdoor Ride On Toys for Kids Christmas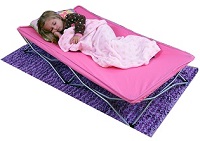 Green Camouflage Wildkin Sleeping Bag for Kids