20 Quart ( 5 Gallon ) Cooking Stock Pot - Stainless Steel - Cooks Standard
20 Quart Stockpot - For those big pots of stew, soup, root beer, canning and such this 20 Quart ( 5 Gallon ) Stainless Steel Stock Pot will be just the cooking pot for you. It also comes in 8 quart, 9 quart, 11 quart and 30 quart stockpot sizes. Safe for cleaning in your dishwasher, this 20 qt cooking pot measures 12.5" in Diameter and is 10.25" deep. The stainless steel lid on this professional grade 20 quart stock pot will keep heat and moisture in while cooking. Customers have reported that the pot lid fits well.
This cooking pot is made with 18/8 stainless steel with an aluminum disc layered in the bottom to provide even/quick heat distribution and prevent hot spots.
A cook pot that has deep stainless steel riveted handles that stay cool and offer durability. Pot works on electric, gas, ceramic, glass, halogen, etc.stovetops. Stock pot is dishwasher safe and oven safe to 500 degrees F.
If you are an outdoors person, this is a great pot for a lot of different uses at the fish camp.
So, is it a big pot of gumbo that you are looking forward to enjoying with your hungry family this weekend? Then this 20 quart stainless steel stock pot will allow you to make it happen.
This cooking stock pot measures: 12.5" diameter, 10.25" depth, 9 lb weight.
Available Online at: Amazon.com Ebay.com
---
Recipes For Your Enjoyment - May 12, 2023

Lemon Pie
¾ cup sugar.
1 cup boiling water.
2 tablespoons cornstarch.
2 tablespoons flour.
2 egg yolks slightly beaten.
4 tablespoons lemon juice.
Grated rind one lemon.
1 teaspoon butter.
Few grains salt.
Process: Mix sugar, cornstarch, flour and salt, add boiling water gradually, stirring constantly. Cook in pot over hot water until mixture thickens; continue stirring. Add lemon juice, rind, butter and egg yolks. Line a pie pan with Rich Paste, wet edges, and lay around a rim of pastry one inch wide; flute edge. Cool mixture and turn in lined pan. Bake in a moderate oven until crust is well browned. Remove from oven, cool slightly, spread with meringue, return to oven to bake and brown meringue.

Meringue
Whites 2 eggs.
2 tablespoons powdered sugar.
¼ teaspoon lemon or orange extract.
Process: Beat whites until stiff and dry; add sugar by the teaspoonful; continue beating. Add flavoring, drop by drop. Spread unevenly over pie and bake fifteen minutes in a slow oven; brown the last five minutes of baking.
---
"A stainless steel stock pot for cooking family meals, canning of fruits or vegetables or even a good cooking pot for making a nice batch of root beer."
This stainless steel stock pot with lid that holds 20 quarts is great for cooking up lots of good meals. Do some canning of fruits and vegetables. Make a batch of root beer for family and friends in this 20 qt. cooking pot. Fix a big pot of beef stew or vegetable soup. This is a cook pot that is made of heavy duty stainless steel with an aluminum core that provides even / quick heat ditribution.
Steam vegetables or make a big batch of mashed potatoes. Make a big pot full of delicious gumbo. This 20 quart ( 5 gallon ) stainless steel cooking pot is a nice size for big or just hungry families. This nice stock pot is dishwasher safe and oven safe to 500 degrees F.
Also available in 8 quart, 9 quart, 11 quart and 30 quart stock pot sizes.
Read Reviews and Buy Online At: Amazon.com Ebay.com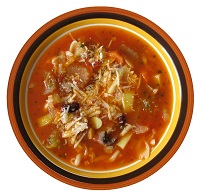 Healthy Non-Stick Frying Pans
Meaningful Necklace to Daughter
HandHeld Meat Chopper and Masher