2 Gallon Stainless Steel Cooking Pot With Lid
If you like cooking then this
2 Gallon Stainless Steel Cooking Pot
with lid will be just the pot for you. It also comes in a
3 quart pot,
5 quart pot, 12 quart pot and 20 quart stainless steel pot size
. The tempered see through glass lid of this cooking pot has a steam vent and allows you to view your food while cooking. The stainless steel handle with silicone on this 2 gallon pot lid stays cool to the touch during cooking. Handles on the pot itself are also cool to the touch.
The mirror polished 18-10 stainless steel of this cooking pot is easy to clean and very durable. The encapsulated aluminum disc in the bottom of the pot helps with even heat conduction and prevents hot spots.
Cook pot has a reinforced rim for long heating and can be used for canning and jarring. Cook on gas, electric, glass, ceramic, halogen, etc. Safe for cleaning in the dishwasher.
Users of this cook pot recommend that you wash it with soapy water, rinse and then boil clear water in it for about 20 minutes to season the pot before cooking food.
So is it homemade spagetti sauce you want tonight or maybe a big pot of vegetable soup for the whole family, then this cooking pot should fill the bill.
Stockpot is durable, not easily dented and has a reasonable weight.

Available Online at: Amazon.com Ebay.com
---
Recipes You May Enjoy Cooking with Your New Stainless Steel Pot - October 21, 2023

Stewed Tomatoes
To one can of hot tomatoes add two-thirds cup toasted bread crumbs. Season with salt, few drops Tobasco sauce, two tablespoons sugar, and one-fourth cup butter. Heat in a large pot to boiling point and turn into hot serving dish.

Tomato Sauce
1 half can tomatoes
1/8 teaspoon soda
1 teaspoon sugar
6 peppercorns
2 cloves
Slice onion
Bit of bay leaf
1/2 teaspoon salt
Few grams cayenne
4 talespoons butter
3 tablespoons flour
1 cup brown Stock
Process: Heat tomatoes in a stainless steel pot to boiling point; add soda and the seven ingredients following. Cook twenty minutes. Rub through a purée strainer, add stock. Brown butter in a sauce-pan, add flour and continue browning, stirring constantly. Add hot tomato mixture slowly, mix well, and pour over Macaroni.
---

Large Cooking Pots, Stainless Steel with Lid
This 8 quart (2 gallon) stainless cooking pot with lid is great for cooking up a big pot of stew or soup to take camping with you. Pour your soup or stew up into smaller containers that are just the right size for a meal at the campground that can be easily heated in a smaller pot on your camping cook stove. It will be a real treat after a long day of hiking, especially if the weather is a little bit on the chilly side. Or, if you are staying home and going to have a bunch of friends over for dinner on a chilly evening, what better to serve than a tasty bowl of stew, soup or chilli.
View More Information and Purchase Online At: Amazon.com Ebay.com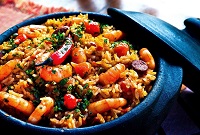 Delicious Hot Meals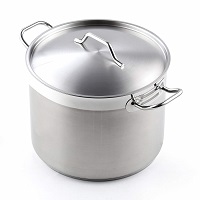 20 Quart Pot on Amazon
* I love the fact that the handles stay cool