Stainless Steel Measuring Spoons, U-Taste, Set of 9 Spoons with Long Handles
Premium food grade 18/8 stainless steel measuring spoons set with engraved measurements right on the long spoon handles making it extremely easy to read. Measuring stainless steel spoon set shown here is the 9 long handled spoon set, but it also comes in sets of 6, 7 and 8 stainless measuring spoons. This set comes with 1/16 tsp, 1/8 tsp, 1/4 tsp, 1/3 tsp, 1/2 tsp, 3/4 tsp, 1 tsp, 1/2 tbsp and 1 tbsp long handled spoons. The measurement amount in milliliters are also shown on each long, thick handle. These spoons are great for scooping cooking ingredients from small containers.
Switch from cheaper plastic spoons to these nice stainless steel measuring spoons. These premium food grade 18/8 stainless steel spoons will not break easily or absorb odors like plastic spoons will. The nice gauge in thickness of these metal spoons will prevent you from seeing any signs of rust either. The well crafted handles will not bend on you or cut your hand while using these measuring spoons. The long handles allow you to dip into the deepest of containers.
I have a pet that has an autoimmune disease and I use these to measure out various powdered vitamins, herbs, etc. to mix with her home cooked meals. They are a perfect size to go in small bottles easily. The rims of the spoons are polished nicely to avoid any cuts or injuries. And, the long handles allow me to get to the bottom of the bottles easily.
Spoons are dishwasher safe or easily washed by hand after each use. The D-ring that is included allows you to nest them together allowing you to save storage space and to easily remove ones that you need.
U-Taste is a professional kitchenware producer that focuses on the customer experience. They monitor customer reviews and upgrade their kitchenware products based on a customers negative experience or suggested enhancements. There products are unique because they use certified food grade materials so it won't ruin your food or theirs.
Another nice feature of these stainless measuring spoons is the hanging hole in the handle. You can place a hook rack on your wall above your kitchen countertop and hang your spoons so they are handy when you need to measure out your ingredients.
Stainless steel measuring spoons have measurements engraved on the long handle of each spoon means so you will still be able to read them after years of use. These mearsuring spoons are also great for scooping your morning coffee into the coffeemaker. I find the long handles and measurement amounts on these stainless steel spoons are great for scooping probotics and other vitamins and herbs for my dog that has an autoimmune disease.

Available Online at: Amazon.com Ebay.com
---
July 13, 2023 - Measuring Ingredients That You May Find Helpful...
Dry Ingredients Equivalent Spoon Measurements:
1 Tablespoon = 3 teaspoons
1/8 cup = 2 Tablespoons
1/4 cup = 4 Tablespoons
1/3 cup = 5-1/3 Tablespoons
1/2 cup = 8 Tablespoons
2/3 cup = 10 and 2/3 Tablespoons
3/4 cup = 12 Tablespoons
1 cup = 16 Tablespoons
Liquid Ingredients Equivalent Ounce Measurements :

1 cup = 8 fluid ounces = 1/2 pint
2 cups = 16 fluid ounces = 1 pint
4 cups = 32 fluid ounces = 2 pints = 1 quart
8 cups = 64 fluid ounces = 4 pints = 1/2 gallon
4 quarts = 128 fluid ounces = 1 gallon
Long Handled Measuring Spoons
Measuring spoons that are long handled allow you to scoop ingredients from deep containers. These measuring spoons by U-Taste are stainless steel spoons with long handles that have each measurement engraved on the handle. These U-Taste measuing spoons are durable stainless steel and will serve you well for years to come.
---
Stainless Steel Measuring Spoons Features at a Glance...
Measuring Spoons - Durable stainless steel measuring spoons with long handles for easily measuring and scooping all your cooking ingredients.
Long Handled - Long handles on these measuring spoons allow you to scoop ingredients easily from deep containers.
Measuring Spoon Sizes Spoon Set - Stainless Steel set contains 9 different long handled measurement spoon sizes. With spoon sizes for measuring from 1/16 teaspoon, in increments, up to 1 tablespoon.
Stainless Steel Material - Metal measuring spoons made of premium food grade 18/8 stainless steel. Measuring spoons sizes set with engraved measurement value right on the durable spoon handle.
Built In Hanging Hole - Conveniently hang your measuring spoons, using the hole on the handle, on a hook in your kitchen close to where you will use them the most.
Does Not Absorb Odors - The premium stainless steel material does not absorb food odors like plastic spoons do.
Integrated Design - One piece integrated steel design, no welds to allow ingredients to stick into the spoons.
Wide Handles - These spoons are not only long handled, but they have wide handles for even big clumsy fingers to hold securely.
Multiple Size Sets - These measuring spoon sets by U-Taste come in a 6 spoon set, 7 spoon set, 8 spoon set and the 9 spoon measuring spoon set shown here..
Dishwasher Safe - or hand wash your spoons as you use them.
Measuring Spoon Definition - A measuring spoon is a spoon used to measure an amount of an ingredient, either dry or liquid, when cooking. Measuring spoons are made of different materials and are available in several different sizes.
---

Stainless Steel Measuring Spoon Set
This 9 piece measuring spoon set that is stainless steel is perfect for measuring up all your cooking ingredients. This measuring spoon set comes with 1/16 tsp, 1/8 tsp, 1/4 tsp, 1/3 tsp, 1/2 tsp, 3/4 tsp, 1 tsp, 1/2 tbsp and 1 tbsp measurement spoons. Each one has the measurement values is engraved into the long stainless steel handle for easy reading and longevity. Your cooking accuracy will be a cinch when using these clearly marked and accurate measuring spoons. These spoons have durable long handles to allow you to scoop your ingredients from taller containers. Even though these stainless steel spoons are a little more expensive than plastic they will last a lot longer and are nonporous like plastic spoons, especially when using to measure wet ingredients. These U-Taste measuring spoons also come in sets of 6 spoons, 7 spoons and 8 spoons.
This measuring spoon set also makes a great gift to anyone who loves to spend time in the kitchen cooking.
View More Information and Purchase Online At: Amazon.com Ebay.com
Kindness Wall Posters for Kids
Delicious Hot Meals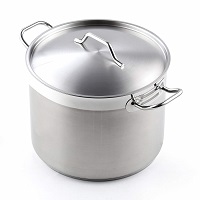 20 Quart Pot on Amazon
* I love the fact that the handles stay cool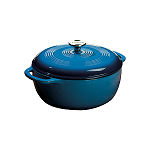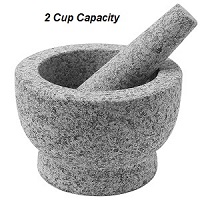 Mortar and Pestle Set, Granite