You can relax in one of these bright colored, low seated beach / lawn chairs and enjoy the sand in your toes or simply the morning sunrise.
Lightweight, portable, low to the ground seat and durable steel frame supports up to 250 lbs. in weight capacity.
Available Online at: Amazon Ebay
11 Low Seated Lawn and Concert Chairs
December 2, 2023 - Low-back and low to the ground, low seated lawn chairs that meet most outdoor concert requirements are those measuring 12" or less from the ground to the front of the seat bottom and 32" to the top of the chair back in its highest position. Even though a lot of people buy these low seated lawn, camping chairs for outdoor concert events, they and others find they are nice to use for other times also. If you are tailgating and not taking a table with you then these low seat chairs will allow you to easily sit your drinks or food on the ground within easy reach next to your chair.
Low seat lawn chairs are great for use on the deck of a boat not only for their low seat but because they fold up quickly and compactly for storage.,
Some people with back problems love to work in their garden while sitting in their low seat camping chair. Works so much better than squatting a lot while trying to pull weeds or getting up and down off your knees a lot.
Whatever your needs are for a low seated comfortable lawn chair then check out these popular selections to find the perfect low seat chair for you.
"This site contains affiliate links for which I may be compensated."
Camping and Lawn Chairs with Low To The Ground Seat
KingCamp Low to Ground Sling Folding Beach Chair, Camping Chair with Mesh Back
The low seat profile on the KingCamp Low Profile Sling Folding Beach Chair makes it great for the beach, concerts and camping.
The big leg cups give you stability even in the sand.
Arm Rest wrapped by foam is soft and comfortable and has an attached cup holder to keep your drink close at hand.
Breathable and cooling reinforced mesh back and seat make you feel cool even in the sun.
Seat height: 7.9", width 23.2".
Heavy duty steel frame supports up to 300 lbs.
Open and close in seconds. Very easy to store and transport with carry back and compact straps.
Colors: Cyan and Blue
more...
Rio Gear Big Guy Fishing, Camping Backpacking Chair 300 lbs, Ultra Light
This lightweight backpacking chair has an extra large no rust aluminum powdered coated frame.
It adjusts to four different positions for your seating comfort.
Chair carries easily on your back with adjustable padded shoulder straps.
Thick cushioned headrest pillow, drink holder, molded plastic arms and large rear easy-access carry pouch.
Padded shoulder straps and hands-free transport.
Backpacking Chair weight capacity 300 lbs.
Comes in Blue, Blue Stripe, Green Stripe and Turquoise colors.
Great for beach, hunting, camping, soccer fields and other outdoor events.
more...
GCI Outdoor Everywhere Hillside Folding Chair Adjusts To Slopes or Terrain
<!!-- End of div before img-container -->
The patented Hillside Adjustment™ system on the GCI Outdoor Everywhere folding chair adjusts to slopes or terrain.
BackComfort™ Technology adjusts the backrest to a position of personal comfort for the sitter.
Other features are a powder-coated steel frame, a mesh backrest to keep you cool and comfortable and a convenient beverage holder.
Auto-Fold™ shoulder strap for easy opening, closing and carrying.
Chair supports a weight capacity of 250 lbs. Open size of chair: 26.8" x 20.2" x 24.4".
Great chair for camping, fishing, hunting, music festivals, etc.
more...
Kelty Lowdown Folding Camp Chairs with Roll Tote Storage and Carrying Bag
You will find that the Kelty Lowdown Camp, Beach Chairs have a durable steel frame, quilted 600D polyester, adjustable arm rest, insulated beverage holder and a padded multi-function roll tote storage.
Chair is constructed to offer a slightly reclined design for increased comfort.
Low Chair dimensions: 21" W x 20" D x 29" H. Seat height 12". Weight 7 lbs. 4 oz.
Weight capacity: 350 lbs.
Carrying bag included.
The insulated cup holder can adjust to fit any cup, can or bottle.
Colors: Tapestry / Canyon Brown and Deep Lake / Fallen Rock.
more...
Kelty Discovery Low Double Folding Loveseat Camping Chair Built for Two
Built for Two the Kelty Discovery Low Seat Double Folding Love Seat is a super-comfy folding chair.
The durable steel frame has a slightly reclined seat back for the sitter's comfort.
Features adjustable armrests and 2 insulated beverage holders.
Quilted 600-denier polyester fabric is insulated, puncture-resistant (in case the dog wants to sit with you) and comfortable.
Padded, multifunction roll-tote storage bag makes the chair easier to pack and doubles as a gear / firewood tote.
Seat height: 13.5 inches
Weight capacity: 500 lbs.
42 inches of sitting space.
Colors: Canyon Brown / Beluga, Deep Lake / Fallen Rock and Tapestry / Canyon Brown..
more...
Lightspeed Outdoor Reclining Beach Chair, Sit Low Concert Seat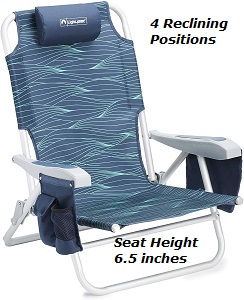 This chair is a perfect low back, low seat chair for boat, beach, park, tailgating, concerts or a festival.
The Lightspeed reclining chair has 4 reclining positions; simply lift armrests and adjust while seated in the chair.
To pack up when done for the day simply turn over and ring legs together.
Seat height: 6.5 inches. Weight capacity: 225 lbs.
A padded handle and backpack straps allow for easy and versatile carrying options.
Compact carrying size of 25.2" x 4.25" x 27.76".
Sling style seat which means no hard arm digging into your legs.
This reclining chair comes in three colors: Blue Wave, Deep Tropics and Summer Sunset.
more...
Cascade Mountain Tech Compact Low Profile Outdoor Folding Camp Chair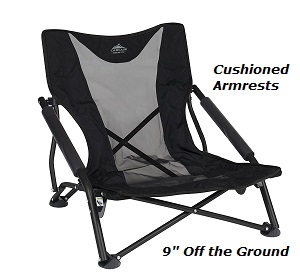 For all those trips to the beach, outdoor concerts, tailgating at sporting events and more the Cascade Mountain Tech Low Profile Folding Camp Chair is the perfect fit.
Meets requirements for most outdoor music festivals this low profile chair is just 21" high and 20" wide.
Fold up to just 26" x 8" quickly and stows easily.
Strong steel and aluminum frame holds up to 250 lbs in weight capacity.
Handy storage bag with shoulder straps included.
Has breathable mesh fabric and cushioned armrests for your sitting comfort.
Available colors: Black, Green & Orange.
more...
ALPS Mountaineering Rendezvous Folding Low Camp Chair, 300 lbs. Weight
Folding Chair sits low to the ground and allows you to lean back at a perfect angle to relax and stretch out your legs.
Collapses and fits into the included carry bag so the ALPS Mountaineering Rendezvous Camp / Beach Chair is easy to store and transport.
Sturdy powder-coated steel frame and supports up to 300 lbs. in weight.
For your sitting pleasure chair made with TechMesh fabric which offers you ultimate stability and breathable comfort.
Chair dimensions: 22" W x 14" D x 24" H. Weight 6.8 lbs.
Colors: Blue, Khaki and Rust.
more...
STRONGBACK Low Gravity Beach / Camp Chair with Lumbar Support, Low
Lumbar supportive design that better aligns your body posture, thus eases tension, supports your back and provides relief to the spine and relaxation of muscles.
The spacious ergonomic seat on this STRONGBACK Low Gravity Beach, Camp Chair is designed to align hips and back for maximum comfort and relaxation.
Since this folding chair is lightweight and easy to use it is the perfect portable chair for camping, picnics, beach trips, sports events, concerts and most any other outdoor activity.
Colors: Blue / Grey, Black / Grey, Camo and Lime / Grey.
Weight capacity: 300 lbs.

more...
11 Low Seat Camping, Lawn Chairs At A Glance...
PORTAL Lightweight Low Gravity Mountaineer Low Seat Folding Camping Chair
You not only want a low seat but you want a sturdy frame and this folding camping chair not only has a low to the ground seat but has big legs that make for a more stable and sturdy construction for sitting. The Low Gravity Mountaineer chair also allows for a maximum 300 lbs. weight capacity. This folding camping chair meets requirements for concert events with a seat that is 8" off the ground and a height of chair back of 19". The total height is 24.6" and the seat width is 21". You will enjoy the ergonomic arm rests that are wrapped in soft and comfortable foam as you relax in this low seat camping chair.
The Portal Low Camping Chair is a perfect compact outdoor chair for outdoor concerts, sporting events, the beach, camping trips and just your own lawn in your backyard.

Available Online at: Amazon