Favored Portable Folding Rocking Chairs for Camping, Porch
Love a rocker but don't like red, no problem, this Best Choice Products folding rocking chair comes in Beige, Black, Blue, Brown, Gray and Light Blue.
Durable steel frame and weather-resistant fabric lets you use this rocker outside while camping, on your patio or just resting on your front porch.
Pillow may be fliped forward for pillow support or backward when not needed.
Rocking chair weight capacity is 250 lbs.
Available Online at: Amazon
10 Styles of Portable, Folding Rocking Chairs for Outdoor Camping
August 17, 2023 - Your outdoor folding camping rocking chair allows you to move to and fro as you relax and enjoy all the beauty of nature. Being able to rock your cares away in your outdoor folding chair is so nice. It relaxes you, as it should be, when enjoying a camping trip or just sitting and rocking while you relax outdoors on your own front porch.
If you are a parent with a small child you know how soothing it is to the child to be rocked for a while and it is even better for you and the child to be able to sit in a rocking chair outside, if you can, with all the pleasant sounds of nature.
There are studies that show that nursing home patients with severe forms of dementia have increased psychological well-being from spending time rocking in a rocker.
Even though the wooden rocking chairs that our grandparents used are really nice, the added benefit of the rocking chairs shown here are that they fold up and can be easily transported to wherever you want to sit and rock away the stresses of the day, be that at a campsite, in a nursing home or outside on the back porch of your home.
GCI Outdoor Freestyle Folding Portable Rocking Porch, Deck, Camping Chair, Heavy Duty, Cinammon
The GCI Outdoor Folding Rocking Camp Chair that is ideal for your outdoor camping trip or just relaxing on your front porch. Comes in cinammon color (shown) or indigo blue.
Relaxing on the back porch or under a nice shade tree the GCI Outdoor Freestyle Folding Rocker Chair is designed with a spring-action rocking technology to smoothly move back and forth.
This folding rocker camp chair is lightweight with a convenient carry handle so you can easily take it anywhere, like camping, where you want to sit and rock a while.
Its sturdy, powder-coated steel frame supports up to 250 lbs of weight.
Convenient beverage holder and padded armrests.
Folds flat for storage and transport.
One of the best folding chairs that rocks.
more...
ALPS Mountaineering Folding Camping Rocking Chairs, 300 lb. Weight Capacity
This ALPS folding rocking chair has a nice easy, long rocking style to it and supports up to 300 lbs. in weight capacity..
This chair is extremely comfortable with a high back, light padding and what best is it rocks.
The frame is strong, corrosion resistant and has a lightweight design to give you years of use.
Built in lock on this camping rocking chair offer security from unfolding during transportation as well as security from folding up while in use.
This camping rocking chair does weigh 17.5 lbs. but is easy to carry.
Rocking Chair Dimensions, 24" W x 17.5" D x 41" H.
Nice color that fits in most anywhere you go. Available in Khaki and Navy / Charcoal colors.
Use at home, outdoors or at the cabin.
more...
Outsunny Folding Padded Outdoor Camping Rocking Chair Set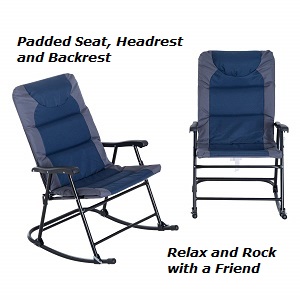 <!!-- End of div before img-container -->
This is a two piece set of camping, outside rocking chairs by Outsunny and have a weight capacity of 265 lbs. per seat.
You get two sturdy steel rocking chairs with armrests and a locking pin setting to make these chairs more stable while rocking.
Color: Gray / Blue.
The thick padded headrest, seat and backrest are covered with weather resistant and breathable Oxford fabric for full body comfort while rocking.
These outdoor rocking chairs are made from steel and treated with powder-coated design to prevent rust.
Chairs fold easily for transport and storage.
Chair dimensions: 26.75" W x 35.5" D x 4.75" H.
Seat to Floor Height: 21.25 inches.
more...
GoPlus Folding Rocking Chair with Headrest for Camping, Beach, Porch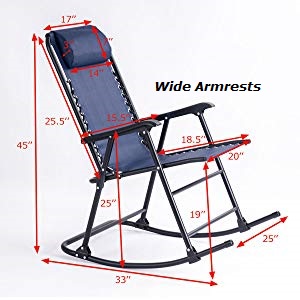 This GoPlus camping rocking chair is equipped with wide armrests and a high back with a soft attached headrest.
This rocking chair can be folded into one third its size. This plus it being lightweight makes it easy to move from place to place.
The chair has a steel construction that is powder-coated so it is anti-rust.
Chair is ideal for both your indoor and outdoor rocking time. Use in a bedroom, in the garden, on a balcony, patio, while camping or around the pool.
These Rocking Chairs support a weight capacity of 250 lbs.
Comes in Blue, Beige and Red colors.
This rocking chair weighs 16.5 lbs. and is easy to move around.
more...
Timber Ridge Rocking Chair Folding Padded Reclining Porch, Lawn, Camping
Breathable textilene material and sturdy steel frame makes the load capacity of the Timber Ridge collapsible folding rocking chair be up to 300 lbs.
Open dimensions of the chair is 40.5" x 19.5" x 18" with the back of the chair being 29" from seat to top.
Easy to set up and fold up for quick carriage and convenient storage.
Locking system allows rocking chair to be secured in an upright position.
Wipe clean with dry cloth or scrub with plain water.
Chair color choices: Earth-textaline, Earth-Side Bag, Earth, Lava-textaline and Lava.
Great rocking chair for lawn, patio, deck, camping, etc.
more...
PORTAL Oversized Camping Rocking Chair, 300 lb. Weight Capacity
For serious campsite relaxation get this sturdy PORTAL Oversized Rocking camp chair in Red, Blue or Black.
Big campers can finally be happy with this rocking chair because its steel frame supports up to 300 lbs. in weight capacity.
Features a padded high back and padded armrests for your rocking comfort.
Detachale armrests storage pockets carry bag allows for storage of cell phone and other items you want to keep close by..
Unique folding system makes the folding size smaller and easier than a regular camp rocking chair.
Folded dimensions: 7" L x 7" W x 40" H.
Overall open chair dimensions: 22.5" W x 18" D x 42" High. Weight 16.5 lbs.
more...
Ozark Trail Quad FC-128 Folding Rocking Camp Chair with Cup Holders, Green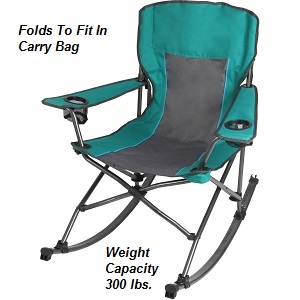 Reasonably priced Ozark Trail Folding Rocking Camp Chair with two cup holders built in to the armrests.
This rocking chair folds to fit into the included carry bag for convenient carrying and stowing.
Comfortable weather-resistant polyester fabric.
Corrosion-resistant strong steel frame.
Weight Capacity of this rocking chair is 300 lbs.
Chair Dimensions: 32.8" W x 38.2" D x 38.2" H.
Seat size: 21.8" W x 17.8" D.
Color: Green
This rocker is extra sturdy, roomy, rocks nicely and collapses easily.
more...
Faulkner 49596 Dakota Camping Rocking Chair, Burgundy / Black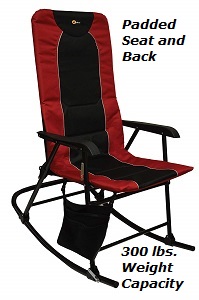 Everyone will love the padded seat and back on this Faulkner Folding Rocking Chair for Camping or RV Travel.
This rocker has a convenient side pouch for your accessories like glasses, binoculars, reading material, water bottle, etc.
This Faulkner folding chair is easy to setup and to carry around.
300 lbs. in weight capacity with this camping, RV rocking chair provided by sturdy steel tubing and 600D polyester fabric.
Open dimensions of chair: 42.1" D x 24" W x 35.8" H.
Folded dimensions: 47.2" x 24" x 6.9".
Color: Burgundy / Black.
more...
Helinox Chair Two Lightweight Backpacking Rocking Chair
<!!-- End of div before img-container -->
This chair is a blend between the Helinox Chair One and the Sunset Chair with added rocking feet.
This chair is very lightweight and it rocks.
Light enough to take backpacking, camping or in and out of the RV plus, enjoy the rhythmic relaxing motion of a rocking chair.
You can remove the rocker legs and convert your Helinox Chair Two to just a regular chair two.
Includes a storage sack for storage and transport.
Chair Two weight capacity 320 lbs.
more...
Don't let stress ruin your day, spend some quiet time in a folding rocking camp chair like this one from Best Choice Products that you can easily fold and move anywhere when you want to go camping or just relax for a while on your own porch, patio or lawn. These zero gravity rocking chairs provide maximum comfort and come in multiple colors to match your likes. The pillow flips forward or backward for your rocking comfort. Chair material is UV-resistant mesh combined with a sturdy steel frame.
Our grand parents got it right when they would spend time after dinner in their rocking chair on the front porch enjoying the cool breeze and night sounds, leaving behind the toils of the day. Nature has much to offer when it comes to relaxing. You just have to make time to relax and invite it in.

Available Online at: Amazon