Generator Home | Listed in Category: Portable Generators, Generators By Brand , Westinghouse WH2200iXLT 2000 watt
People Who Viewed This Item Also Viewed...
Westinghouse WH2200iXLT 2000 Watt Quiet Inverter Gas Generator

When you want quiet and clean power for your recreational needs or any other portable power supply, the Westinghouse WH2200iXLT portable inverter generator can be there for you.
Producing 1800 running and 2200 watts at startup of power and weighing only 47 lbs., this gasoline, 4 stroke unit will run 13 hours on a full tank (at 25% load) while providing 2 120V AC outlets.
Pair this small generator up with another WH2200iXLT and double your power. The units fully teach each other once the cable is connected to the first unit.
Double mufflers design to keep your unit running quiet and smooth.
Low oil shut down capability.
AC overload circuit breaker reset.
Color coded user touch point.
12V DC Adapter.
Gas tank capacity: 1.3 Gallons
Engine: Westinghouse, 4 stroke, 79cc, OHV
EPA and CARB Compliant (can be used in California).
Lightweight, ergonomically designed.
Dimensions: 20" L x 12.5" W x 18" H.
Inverter technology offers stable power for electronic devices.
Westinghouse Generators At A Glance
Westinghouse WH2200iXLT 2000 Watt Quiet Inverter Gas Generator
Westinghouse WH2400i 2100 Watts Explorer Series Portable Generator
Westinghouse WH3250c 3250 watts portable gas generator
Westinghouse WH5500 5000 watts portable gas generator
Westinghouse WH7500E 7500 Watts Portable Gas Generator with Electric Start
Westinghouse 8KPRO 8000 watts Generator with Remote Start
Westinghouse 10KPRO 10000 Watts Home Generator with Remote Start
Other Items You May Need Along With Your Westinghouse Generator, While Camping or During A Power Outage:
| | |
| --- | --- |
| | Can be Fully Opened to Use as A Quilt |
Why A Good Camp Grill or Cook Stove Is Important For Camping and Power Outages
June 25, 2022 - Going camping is a fun outdoor family activity. Memories are created that your family will never forget. However, before you go, you want to make sure that you have all of the necessary camping equipment that you will need to have a great camping trip.

One of the best parts of camping is the food that you get to enjoy and do not eat all the time at home. Having a camp grill or cook stove that is easy to use as well as made for the outdoors is a huge plus for any outdoor camping adventure.

This same camp grill can be used to whip up a hot meal for the family in your own back yard during a power outage. You can make it a fun little camp out and get everyone's mind off the inconvenience of no utility power.

Camp grills come in all shapes and sizes, as well as price ranges. Using a grill that is easy to set up can make use of it so much more enjoyable. Look for one that is lightweight and easy to clean up after use.

Before your camping trip or power outage take some time to think about what you will cook on your grill and always make sure you have those food items on hand. If your grill is fueled by wood or propane then also make sure to keep an adequate supply on hand for the number of days you might be camping or without power.
---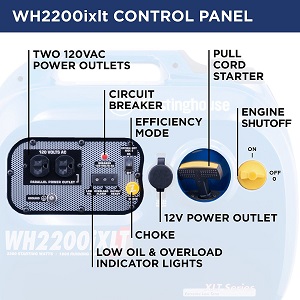 With a yellow color coded touch point easy to read control panel the WH2200iXLT portable generator is a breeze to use. Lightweight and quiet it can provide you portable power for so many things: sump pumps, tailgating, lights, TV, camping, RV, power tools and general home use.
Available Online At: Ebay.com and Amazon.com