Ozark Trail Gray and Orange 3-Room Camping Tent with Screened Porch
A roomy 3 room tent by Ozark Trail with a nice front screened porch to boot with setup in under 2 minutes.
Poles are pre-attached to the tent and you can fit 3 queen sized airbeds in your tent's 3 rooms.
Enjoy the screened in porch during hot sunny or rainy days .
And the screened in area provides a bug free environment for eating meals or just sitting and relaxing while reading..
Sleeping capacity for 12 persons.
Features 10 fully closable windows and 3 entry / exit doors.
Rainfly included and tent has electrical cord access.
more...
10 Person Tent with Attached Screened Porch 3 Rooms 2 Doors by Ozark Trail
With two people this large family tent with three rooms is easy to setup and has a nice attached screen room for you to enjoy while on your camping trip. Can be setup by one person but takes a little longer.
There are two room dividers so you can convert this tent into 3 rooms for more privacy. The front porch provides protections from pesky flying insects and does not have a floor.
The Ozark Trail 10 Person family camping tent has a seam-taped rainfly to keep you dry and protected from inclement weather.
There is an electrical cord access port so you can run an electrical cord into the tent from an outside power source.
To help keep the inside of your tent clean there is an included mud mat.
The tent structure is an extended dome and is designed for summer camping.
more...
Tahoe Gear Carson 3 Room 3 Season Large Family Cabin Tent with Screen Room Attached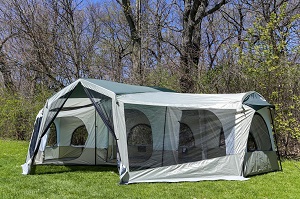 <!!-- End of div before img-container -->
Large and comfortable this 3 room Tahoe Gear Carson cabin tent give you plenty of space for 3 Season camping with your family.
Campers can move easily throughout this large tent due to the 7 foot ceiling center height and high wall height.
The rain fly features a solar shield which reflects sun light in order to keep the inside of the tent cooler on warm / hot days.
This tent has plenty of space for storgage of your gear and other supplies.
Can be divided into 3 rooms for privacy or opened into one large tent.
Hang out in the open screen room to rest and enjoy the day.
An open mesh design provides excellent cross ventilation throughout the tent.
more...
Core 10 Person Instant Cabin Tent with Front Screened Porch and Room Divider
Setup in 2 minutes or less.
The two rooms are great for privacy and then the screened in front porch is nice for relaxing, storing gear out of the rain and even sleeping under on nice weather nights..
The poles are pre-attached to the tent - just unpack, unfold, lift legs into position and extend legs until they click into place.
Enter from either of the (2) D-Doors which features an attachale center room divider which give you freedom to create multiple separate living and sleeping spaces.
The water repellent rainfly is removable in warmer weather to expose the mesh ceiling for panoramic views.
Advanced venting system uses the adjustable air intake vent designed to draw in cool air from the ground while the mesh ceiling allows hot air to escape.
Overall dimensions: 14.5' x 14'. Screen Room dimensions: 14' x 5'.
more...
3 Room ( Including the Screen Room ) 9 Person Cabin Family Camping Tent
Sleeping up to 9 people the Ozark Trail 3 Room Instant Cabin Tent has a hanging divider that can be used to create 2 separate rooms inside the tent with a bonus screened porch across the front of the tent.
There is a generous 7 ft. ceiling height to give you plenty of head room.
Poles are pre-attached to the tent so setup can happen in under 2 minutes.
Comfortably fit two queen airbeds inside this tent or nine people in sleeping bags..
Screened room does not have a floor but has a narrow shoe mat that attaches to the tent itself. It spans the entrance to main tent area.
Tent has a storage organizer, window flaps that stow into their own pockets and you can hang things on multiple ceiling loops.
more...
2 Room Camping Tent with Screen Porch or 3 Room Sleeping Tent by Ozark Trail
Versatile and designed for stability this tent can be used as a two room tent with a screened porch or as a 3 room sleeping room tent all rooms with private access.
Enjoy electricity in your tent brough in from the outside via the ePort available on this camping tent.
Features a media pocket for all your entertainment items..
Plus interior pockets help you keep organized with all your smaller items. 3 Bottle holder pockets also.
Use queen airbeds or sleeping bags.
You will enjoyexcellent ventilation via the 8 windows and the mesh roof.
Move around easily with the center height of 78".
Stay dry with the taped fly seams and inside binding floor for water resistance.
Take a week or weekend adventure and enjoy the screened porch of this Ozark Trail family camping tent.
more...
Why Would You Want A Screened Porch on Your Tent
April 13, 2022 - Most people think of a screened porch on a tent as the place you go sit and relax when you want to keep all those flying insects away from you. And that is a primary reason for purchasing a camping tent with a screened in porch.
However, there are a number of other reasons to have a tent with a screen room.
If you have pets that go camping with you then the screened porch is a good place for them to sleep at night out ot the rain and out of the tent bedroom.
Small children can play out of the direct sunlight on a hot day.
You can store your gear in the screened room to help keep it dry and out of the sun's uv rays.
Since the screened walls give you a bug free environment then it is a nice place to enjoy your meals each day, while enjoying the view of nature.
Many people like to just relax and read and enjoy the cool breeze on the screened in porch, out of the direct sunlight.
The screened porch area of a tent gives you a much better view of nature while just sitting comfortably in your folding camp chair and protected from all those pesky mosquitoes and knats.
Many people like to sleep in the cool air, yet closed in by the screened room.
With some tents the screened porch can be converted to a complete additional bedroom.
Some tents come with a vinyl floor for the screened porch area just like the floor in the sleeping rooms. Depending on your plans for use of the screened in porch area this may or may not matter to you. Just something to keep in mind when making your camping tent selection.

The key is to get away from the concrete maze that the city offers and enjoy all of the beauty that nature has to offer us. It is so relaxing and rejuvenating. Enjoy!