Generator Home | Listed in Category: Furniture, Counter Stools, Counter Height Stools with Backs, Arms
People Who Viewed the Leopard Adjustable Height Counter Stools Also Viewed...
Furniture by Leopard Outdoor Products: Modern Square Back Adjustable Counter Height Bar Stools with Arm Rest, Set of 2...

These swivel counter stools with backs give you a lot in the way of features. Among those are 360 degree rotation, ergonomic design and multi-color choices.

No matter what type floors you are using these counter height stools on you can appreciate the bottom non-slip rubber ring so that your floor is not scratched. Also, the 360 degree rotation of the seat and back allows a person to turn and exit the chair without having to even move the base.

The quilted design of the PU leather on these counter height stools gives a nice contemporary chic design adding a quality look to your home decor.

Other counter height chairs by Leopard Outdoor Products without arms and / or backless are available in various color choices.

Features...

1 set of 2 counter height bar stools by Leopard Outdoor Products.
360-degree swivel bar stool.
Rubber ring bottom to prevent floor from scratching when moved.
Stool has an adjustable height with air lift.
Build in footrest for comfort that adjusts with height.
Pu Leather quilted design covering for back and seat of stool.
Base made of high duty bright plating chrome.
These counter height stools look good in your dining room, kitchen, living room, entertainment room, office, cafe or restaurant, etc.
Dimensions: 17.3" L x 16.9" W x (24" - 32.3") H
Cushion height is 2 inches.
Chrome base diameter 16.33 inches.
Weight Capacity: 250 lbs.
Easy setup, Instructions included.
Because the height is adjustable they work well for kitchen counter heights or, bar heights.

View More Colors and Styles Online at: Amazon.com
---
Red Armless Counter Stools

Black Armless Counter Stools

Leopard Modern Square PU Leather Adjustable Counter Height to Bar Height Swivel Stools with Backs, Set of Two ...

These are the same style adjustable height bar stools as shown above only armless.

Features...

Built in 360 degree swivel.
Polished chrome base and footrest that adjusts with height adjustment.
Air-lift handle for easy height adjustment.
Easily adjusts from counter to bar height (21.5" to 31.5").
Quilted back and seat for sitting comfort.
Dimensions: 16" W x 15" D. Seat back dimension: 14.5" W x 12" H.
Chrome base diameter 15.15".
Available in multiple colors.
Ergonomic Design.
Comfortable lifting bar chairs for kitchen island, dining, entertainment room.
Weight Capacity: 250 lbs.
Height of cushion: 2 inches.
Set of 2 armless bar stools.

View Additional Colors and Finishes Online at: Amazon.com and Ebay.com
---
Counter Height Adjustable Bar Stools, Swivel Square Backless Bar Stool by Leopard, Black

Perhaps you are more a fan of the backless, armless counter height swivel bar stools. If so, this stool by Leopard Outdoor Products is a good choice.

You can use these stools indoors on vinyl or hardwood floors. The chrome base has a rubber protector to keep the stools from scratching your floors.

Features...

Stools have a height adjustment from 25.4" to 33.8".
PU Leather seat covers are wear-resistant, anti-aging and breathable.
Build in 360 degree swivel seat.
Height adjustable seat with air life.
Footrest that adjusts with height adjustment.
High duty Chrome base and pole.
A furniture item for a variety of areas: Island Counter, Resturant, Office, Dining, Bar / Entertainment Area.
Weight Capacity: 250 lbs.
Easy to assemble.
Bottom non-slip rubber ring.
Color: Black


View Online at: Ebay.com
---
Other Items You May Enjoy While Sitting in Your Telescope Casual Chair:
Functional Counter Height Stylish Stools with Backs and Arms Add Style and Comfort to Your Home.
Feb. 27, 2021 - Counter height stools seat heights range from 24 to 29 inches from the floor and work good for kitchen counters or tables that are about 34 to 39 inches high. Standard kitchen counter tops have a height of 36 inches off the floor, but depending on coutertop thickness the overall height can vary from 35 1/2 inches to 37 inches.
The most common height of a bar top , whether it is a basement wet bar, kitchen breakfast bar or your commercial bar at your favorite pub is 42 inches. A bar height stool seat is about 30 to 36 inches and is perfect for a standard bar top height.
Adjustable counter height and bar height stools make it easier to find a stool seat that matches your decor and works for your counter or bar height in your kitchen or entertainment room.
These stools come with back and arms, backless or armless which give you a variety of options to find a counter height stool that is comfortable for you, your family and friends.
---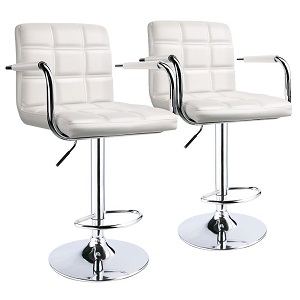 These stools with backs and arms adjust from counter height to bar height (21.5" to 31.5") and feature a 360 degree swivel.
They sit comfortably and the armrest allow you to easily relax while sitting. They are easy to assemble and can be ready for use quickly.
View Online At: Amazon.com
---
Things To Think About When Selecting Counter Height Stools For Your Home
Are you the only one that is going to be sitting in the new stools or do you have family and friends that will be sitting at the counter in your kitchen or bar area also.

If a person is short they may not be real fond of sitting in counter height stools, especially if there is no footrest available to keep their feet from just dangling loosely as they sit.

Elderly people, even if they are tall may be very uncomfortable sitting in a backless and armless counter height stool.

Some people who don't have a lot of padding of their own may find a stool with a padded seat and / or back much more comfortable.

Of course, you want to consider the colors in your room and how well the finish and colors of the counter height stools will fit in with your decor.

Measure the heights of your counters and make sure that the height of the stools will fit for you. Are the seats of the stools adjustable which would help with different height people that are going to sit on them.
---
Other Counter Height Stools and Bar Stools
Swivel Bar Stools with Backs | Gray Counter Height Stools