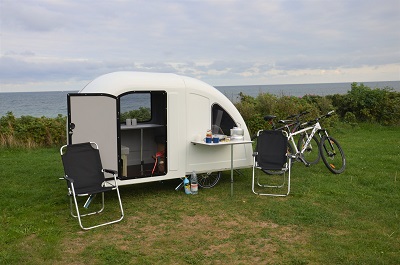 Bicycle Camper
This is the 2017 US model of Wide Path Camper's bicycle camper. This neat little mobile shelter offers an adventurous outdoor person instant protection from the weather. Features a comfortable for 1 or 2 persons or a convertible space for 4 adults to dine-in, relax and camp in style without pitching a camping tent.
This bicycle camper has a unique shape and exterior hardshell with semi-insulating foam that gives one a cozy feeling when inside and also provides a safe place to store your belongings. The overall outside has a shiny white UV resistant surface.
Unfolded the Wide Path Camper bicycle camper is approx. 9.35 feet long x 5.74 feet high x 3.18 feet wide. Folded the width and height are the same with it being just 4.89 feet long. Height inside the cabin is approx. 4.66 feet high which gives you a comfortable height for sitting. The floor-over-ground height is approx. 1.64 feet.
With the "easy-to-use" folding system it only takes about 3 minutes to unfold the camper onto the support legs and get it ready for camping. When you are ready to be on the move again simply fold the back of the camper back over the front and you are good to go.
The camper has an aluminium rail with slot for tent / sun cover that is sold separately as an accessory. There is a ventilation slot in the front and the floor is made of a water-resistant plywood.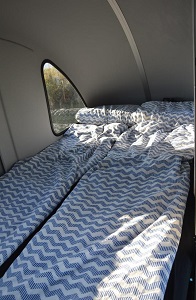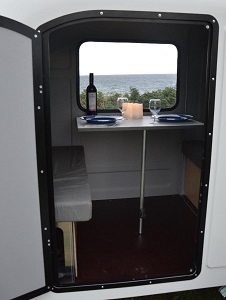 Sit, relax and enjoy the view through clear windows made from shatter free polycarbonate. The sitting area is transformable into a bed with a night stand at the head end. Bed size is approx. 6.56 feet by 2.95 feet and has storage underneath.

Additional Reading: