Camping Cots and Folding Beds

June 18, 2019 - So you have all your gear ready to go on your camping trip but you or some other family member is dreading sleeping on the forest floor. You know there are bugs down there. While some camping tents can give you some protection from the rough terrain, it can still be very uncomfortable and you really want to get a good night's sleep so you can enjoy your days in the great outdoors.
So, what to do? Get yourself a comfortable and affordable sleeping camping cot bed which will allow you to get a good night's rest so you can be ready to go the next day. They come in all sizes, even double camping cots for two persons. Or, if you are tall then get one of the extra long camping cots so your feet won't hang off and you can sleep comfotably.
If you are looking to find a good camping cot then you will want to check out these camping cot beds shown here. These are some of the most popular camping cots for kids and adults to use in tents. Go select a cot bed that will make your camping trip a happy experience.
Content Summary for 14 Camping Cot Beds for Kids and Adults:
14 Best Selections of Camping Cot Beds for Kids and Adults While Tent Camping or Hiking
---
1. Coleman Queen Size 2 Person Airbed Camping Cot with Mattress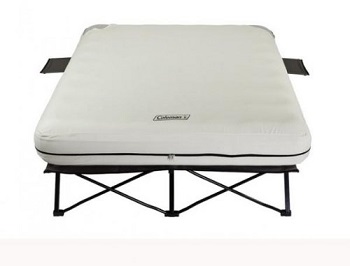 This portable queen size airbed mattress and cot is an ideal choice for a camping cot and even for a guest bed in your home. The sturdy steel frame of this cot bed supports up to 600 lbs. in weight capacity and people who are up to 6 feet 2 inches in height can sleep comfortably. Overall size of this double camping cot with mattress is 78" x 59".
Not only are you not sleeping on the hard ground with the little creatures, because it is raised on the frame, it is so much easier to get on and up off of, especially if you are not still young and spry.
The airbed mattress can be used on the frame are as a separate piece leaving the cot for sleepers with sleeping bags. Features like the side tables with cup holders and the under bed storage add a lot to this camping cot.
The Coleman Queen Airbed Camping Cot comes with a 4D Battery Operated Pump and the air mattress features ComfortStrong coil construction for support and a comfortable night's sleep.
Are you going camping alone? Then you may just need the Coleman Framed Airbed Mattress Cot Twin .
View Online at: Amazon Walmart Ebay.com
---
2. Coleman ComfortSmart Camping Cot

With the pad on this portable folding camp cot by Coleman you will have bed like comfort for a restful night's sleep while camping. This ComfortSmart cot has a durable steel frame and can support up to 275 lbs. and is a good choice for people up to 5' 7" tall.
Cot measures 69" x 25" x 15" when unfolded yet fits into most car trunks when folded, even though some people find it a little cumbersome to actually fold up. Like with other cots there is under the bed storage which is always nice for your camping gear even when you are tent camping.
There is also a ComfortSmart Deluxe Camping Cot (on Amazon) that is 30" x 80", supports up to 300 lbs. in weight capacity and fits people heights of 6' 6".
People not only find the ComfortSmart cot great for camping in tents but they use it in small apartments, at their office when they have to stay over night and for extra guests in their home.
View Online at: Amazon.com Walmart Ebay.com
---
3. Teton Sports Outfitter XXL Camping Cot Folding Bed for Tents, Camping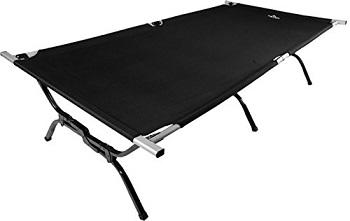 If you are a large person you will love this Teton Outfitter XXL Camping Cot which is larger than a twin bed and supports up to 600 lbs in weight capacity.
The frame on this folding cot bed pulls into place to give you a tight comfortable surface for great support. Use your sleeping bag or add the TETON Sports Outfitter XXL Camp Pad (found on Amazon) to get the best night's sleep while on your outdoor camping adventure.
Steel S-leg design strengthens the cot and innovative rubber bushings absorb shock and add firm support on this lightweight aluminum frame.
Size for the XXL Teton camping cot is 85" x 40" x 19". If you plan to use this cot inside your tent then be sure you take into consideration this cot's size. Might want to upgrade the size of your camping tent before you go. Still need room to walk around and to put your camping gear.
Comes with its own sturdy canvas storage bag and is a nice, sturdy, quality large camping cot bed.
View Online at: Amazon Walmart Ebay
---
4. KyRush It Camping / Backpacking Cot Portable Folding Bed for Adults and Kids
These fold up travel camp beds by KyRush It are heavy duty, yet lightweight and comfortable cots. The cot unfolded is 74" L x 31" W x 15" H and weighs only 15 lbs. This foldable sleeping cot is safe for up to 300 lbs in weight capacity.
This is a cot that is great for your camping trip to the great outdoors or for one of your kids to have a camp over in a tent in their own front yard.
Comes with a convenient carrying bag with straps which makes it easy to stow away or carry.
This is a durable comfortable lounger cot good for any hiker, camper or outdoor adventurer. While backpacking take this folding cot for sleeping or just a short rest.
This backpacking cot comes in Gray, Navy and Red colors.
---
5. Coleman 80 x 32 Inch Pack Away Camping Cot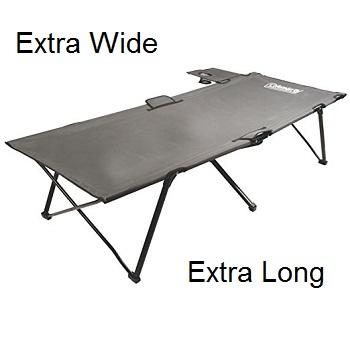 This Pack-Away Cot by Coleman has a heavy duty steel frame and tough polyester fabric that supports up to 300 lbs. in weight capacity. It is built to withstand season after season of rugged usage.
The neat little removable side table gives you a cup holder and enough room to set a snack, paperback, glasses, keys or other personal items. The other nice thing about this cot is that it is extra wide and extra long so that a person up to 6' 6" can sleep comfortably.
Comes with a carrying bag and when folded fits into most car trunks, making it easy to transport.
The Coleman Pack-Away Camping Cot is nice for sitting, reclining and sleeping due to it's extra-wide design that provides ample resting room.
Not only is this cot good for camping and outdoor adventures it is a good cot for extra sleepers in your own home.
View Online at: Amazon Walmart Ebay
---
6. Portable Heavy Duty Foldup XL Camp Bed by REDCAMP
If you are a broad shouldered person you will like the room in width that you have with this camp bed. The open size of this REDCAMP camping cot is 75" x 28" x 15". So, its extra width is great for a lot of people.
The frame has a new and unique elongated circular design with sturdy and durable joints that provide support for up to 250 lbs. in weight capacity and the large rubber feet help prevent slipping.
The fabric covering for this camp bed is a breathable 600D double layer oxford polester with PVC coating. The frame is covered by sleeves for reduced creaking and to make sleeping quieter. However some customers say that the fabric itself is noisy. To help reduce this noise and to have a softer bed area you might want to add the REDCAMP camping mattress also found on Amazon.
There is a handy storage bag on the side of the camp bed. It has 3 different pockets for storing things like glasses, cell phone, paperbacks, magazines, etc.
Just take this foldup cot bed out of the storage bag and it just opens up and is ready for sleep; so setup time is minimal. You can purchase this camping cot in a Blue or Green color.
Purchase Online at: Amazon Walmart
---
7. Timber Ridge Heavy Duty Adjustable Folding Camp Cot Bed
The nice thing about this Timber Ridge Camp Cot Bed is that it is not only heavy duty but it is also has an adjustable ratchet backrest that goes from flat to multiple angles. This way you can find the best fit for you to get your best night's sleep. Some people seem to breath a little easier if their head and shoulders are raised a little while sleeping.
For more comfort you have the thick foam padded mattress and a high quality polyester fabric. The steel frame construction gives you durability for use in hard outdoor weather and support for up to 300 lbs. in weight capacity. The frame folds flat for easy transport, storage and quick setup.
Cot dimensions are 79.2" L x 29.9" W x 12.2" H.
The padded mattress is not waterproof so this probably is a better fit for tent camping or use in your home.
The foot of the cot does is not adjustable, only the head .
Purchase Online at: Amazon Ebay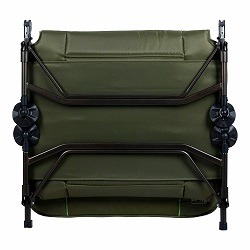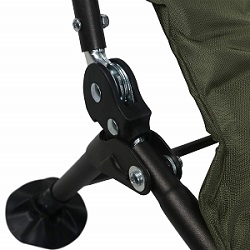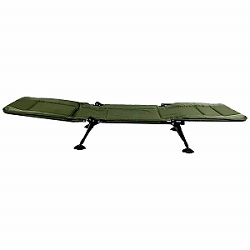 ---
8. Lightweight DESERT WALKER Portable Outdoor Camping Cots Bed
The plus about the DESERT WALKER camping cots is how lightweight they are; weighing in at only 2.8 lbs. It folds into a small size for easy transport or small space storage in its own sturdy oxford storage bag.
Each cot is handcrafted fine workmanship by precise sewing and nice detail handling. The worker making the cot can be traced, thereby inspiring pride and precision in their work. The fabric on the cot is waterproof which will help with crack prevention of the bed surface.
Cot dimensions are 72.8" L x 23.6" W x 5.9" H. Even though this cot is not off the ground as much as other cots the height is fine for keeping you away from moisture and a hard surface. And if you are looking for lightweight then this is some of the tradeoff. It also has a nice packed size of 20" x 5". Because of its size and height you can use it in almost any tent. And with its 8 wide plastic feet it is really floor friendly.
Supported by 7001 special aviation aluminium frame that is both lightweight and sturdy with easy attach connecting pins for easy setup.
Cot supports up to 440 lbs. in body weight.
Nice lightweight camping cot bed for Camping Trips, Backpacking, Hunting, Open-air festivals, On beaches, Hiking, Motorbike tours, Cycling Tours, Travel and a Home Spare Bed.
Reasonably Priced at: Amazon Ebay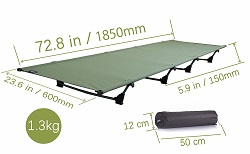 ---
9. Kamp-Rite DOUBLE Kwik Camping Sleeping Cot Bed For Two

Person
This is the Kamp-Rite® camping cot double wide for two people. It is a sturdy, compact, convenient and comfortable cot. This cot can be used indoors for overnight guests or outdoors while camping. For additional sleeping comfort it has a padded head section.
A nice added feature is the mesh storage hammock underneath the cot. Keep your glasses, medications, reading material, etc. close at hand. The cot is made with a heavy duty, powder coated frame and the fabric base is a heavy duty 600 D material.
Cot dimensions are 85" L x 55" W x 19" H with a weight capacity of 500 lbs. (total). You can easily carry your cot in the included heavy duty 600 D carry bag. Be aware that the folded cot weight is 33 lbs.
Some customers have reported that they have made this cot even more comfortable by adding a queen air mattress.
Color: Black .
Setup is easy, take down is easy and gives a comfortable sleep surface.
Reasonably Priced at: Overstock Target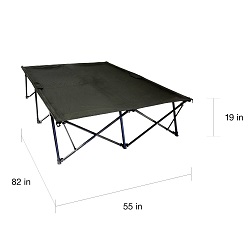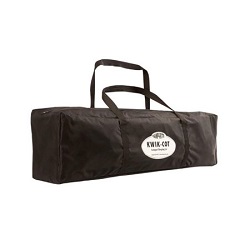 ---
10. Oversized DRMOIS Portable Foldable Outdoor Camping Cots for Heavy Person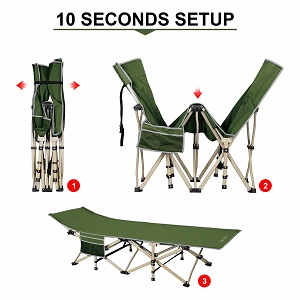 These DROIS oversized camping cots for a good choice for a heavy set person. The weight capacity of this cot is 450 lbs. Cot dimensions are 74.8" L x 26.4" W x 13.8" H.
To help eliminated morning back, neck or shoulder ache the cot provides a curved frame for the head rest position. For strength this cot has unique square high strength anti-rust steel tubes, triangle structure and concave-convex symmetry design.
The fabric is very durable and environmentally friendly. The covering is breathable 1200D double layer oxford fabric which is water resistant, offers superior strength and easy to clean.
A storage bag on the side of the cot allows you to keep cell phone, glasses, reading material and other essential items close so you can use them without having to constantly be getting up off the cot bed.
Carry bag included with purchase of cot. You can get a good night's sleep on this cot without worrying about it tipping over. You will feel no uncomfortable bars while sleeping on these camping cots.
Comes in Army Green and Royal Blue colors.
Purchase Online at: Amazon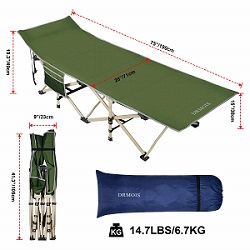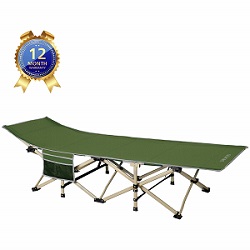 ---
11. Strong Stable KingCamp Camping Folding Bed Cot with Carry Bag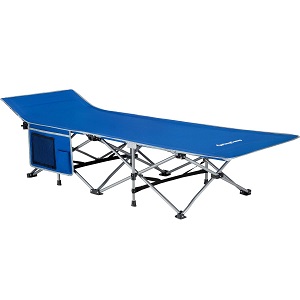 KingCamp is a well known brand for camping cots and folding outdoor chairs and the rating on this heavy duty camping cot shows they have designed a cot that people are happy to use.
This camping cot fits people up to 6'2" tall and with a max weight capacity of 265 lbs. Cot dimensions are 74.8" L x 26.8" wide x 15" H (head height is 18.9").
The frame is high strength steel tubes bracket and triangle structure giving you a sturdy and heavy duty cot for your sleeping comfort. A breathable 600D double layer oxford fabric can last many years.
One end of the cot is tilted to allow you to sleep without a pillow. This tilt is not adjustable and some customers who have purchased this cot did not like the fact that it would not lie flat. You can purchase this cot with or without the nice side pocket for your personal items like cell phone, reading material, etc.
The cot folds down quickly and easily to fit into the included storage bag, making it easy to transport and store.
Comes in Blue, Green and Gray colors, with and without the storage pocket.
Purchase Online at: Amazon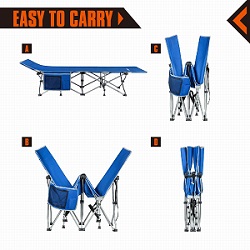 ---
12. Original Kamp-Rite Camp Bed Tent, Cot Tent for 1 Person
This camp bed tent cot for one person will keep you comfortably off the ground away from insects, dampness and rocks. It is really an innovative advance in off-the-ground camping cots. The sturdy cot base eliminates sleeping on uncomfortable cross bars that are typically found in standard sleeping cots.
The unique hinge design of this tent cot allows it to be converted to a lounge chair for day-time relaxation or turn it into a standard style sleeping cot for your camping adventure.
You can get in and out of this tent cot easily through one of the two zippered polyester and mesh entry doors on both sides of the cot. In addition, additional air flow in warm weather is provided by the mesh openings at each end of the tent cot.
This cot is built with light weight aluminum frame yet supports up to 300 lbs. in body weight. The cot folds down to 33" x 30" x 6" for transport and storage in the included heavy duty carry case.
Open dimensions of this cot tent: 84" L x 28" W x 24" of head room in the tent.
Comes in Green and Gray colors. Customers have reported using this tent cot bed for camping, military training and even as a homeless person.
Purchase Online at: Amazon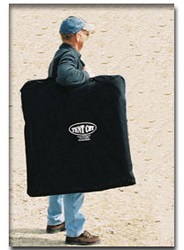 ---
13. Folding Elevated One Person Tent Cot Bed with Carry Bag
This elevated folding one person tent cot bed is another way to create a private sleep shelter for you while camping, hiking and any place else outdoors where you want to catch some zzzz off the ground and away from dampness and insects..
This tent cot bed is for one person and can be setup by one person. Tent cot has a light weight aluminum frame helping to create a total weight of just 29 lbs. Carry it easily in the included bag.
You will find this to be a stable and sturdy tent cot bed with a waterproof bottom material. There are 2 large D-Shape screening doors with zipper to make entry and exit easy.
To keep you dry the cot is made with a heavy duty 420D PU coated Oxford material plus a rain fly. If no rain and nice temperatures then you can use this tent cot as a simple flat cot if you prefer to sleep without the tent cover.
The bed dimensions are 84.5" L x 34.5" x 12" H.
Comes in Green as shown in images.
Purchase Online at: Ebay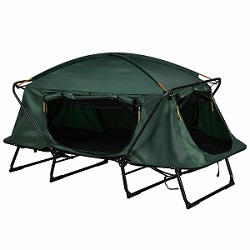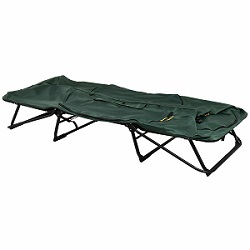 ---
14. Mountain Trails Lightweight Base Camp Cot
This is a nice lightweight low profile portable camping cot for in tent or outdoor use at a nice price. Some people have also found this cot great for in home use. This cot will reduce down to a small size when folded and requires no tools to set it up.
It weights in at a light 9.8 lbs. so it is easy to move around. Includes a carry case with strap which helps with storage and transport. This cot is only 6.7" high so it will fit nicely in most camping tents. Even though it does not require tools to assemble, it does have to be assembled and you would probably be best to do that outside the tent. This then means if you are planning on using it inside a tent that the door opening would need to be sufficient for the cot bed after it is assembled.
For summer use you would not need a pad on this cot but in winter it would be a good bit warmer to add a good pad to the cot.
Cot has a rugged powder coated steel frame and a weight capacity of 225 lbs. This cot is designed in such a manner that you do not feel the crossbars while sleeping on it.
The bed dimensions are 74.8" L x 30.3" W x 6.7" H so works for most adults but maybe not the best cot selection for a very tall person.
Some customers report that it is great for their dogs, especially the elderly ones and it is reasonably priced to make that a good use.
Purchase Online at: Amazon
---
Camping with Cots Summary
Above you have been shown some of the more popular sellers of camping cot beds. Some features are more important to some people than others when camping with cots. For instance if you are a tall person then you will be more interested in a longer cot than others might be. If you are not very strong yourself then a lightweight cot might be the most important feature to you.
We tried to find a popular cot bed selection with each different feature that you might need. Just review the selection of camping cots above and find the one that best fits your requirements.
Buying Guide For Camping Cots
Cot Size
Most camping cots are made to sleep one person and are similar in size to a twin airbed. However, if you are a tall person you may want to look at the extra-long cots made specifically to sleep tall people. Also there are extra-wide cots which will accommodate persons up to 450 lbs.
Off The Ground
One of the nicest features of a camping cot is being elevated off the ground by legs or a foldable frame. Sleeping on the ground on an airbed or sleeping bag can be a miserable experience with it rains. Camping cots can be easily used outdoors or inside a tent. If the weather is pretty and you want to sleep out in the cool and gaze at the stars then it is easy to move your cot in and out of the tent.
Cots keep you off the cold ground in the winter and yet allow air to better circulate and help keep you cool in the summer.
Storage Space When Folded
When using your camping cot in one of the larger tents then you can use the space underneath the cot for gear storage. You won't have this elevated space available when using a sleeping bag or air mattress.
Durable
Rugged fabrics and aluminum frames make your camping cot last longer which is an advantage in durability and strength over other sleeping solutions while on your camping trip.
Tip Over Safety
Depending on your body weight a camp cot may tend to tip over if you sit on the side of it. Few are made where you can sit on the foot of one without it tipping over. But many of the cots have frames designed to allow you to safely sit up on the side of it without tipping over.
What Does 200D Fabric Mean?
When you are looking at camping cots and you see that the material is 200d fabric, what exactly does that mean to you. The "d" stands for denier which is a unit of measurement that expresses fiber thickness of individual thread or filaments in fabric. A fiber with a denier of less than one is considered a microfiber.
So, with the definition of denier in mind, you can understand that fabrics with higher denier threads tend to be thick, durable and sturdy. Fabric, like "ballistic" nylon used for backpacks and tents will usually be between 100d and 600d or more.Fabrics with a lower denier measurements will be sheer, soft and silky.
For camping cots you would like to see a deneer of around 600d. Some manufactures do not publish the fabric rating. In this case, you will need to rely on the maximum weight capacity. The larger weight a cot supports, the higher density of a fabic should have been used.
What Does Anodized Aluminum Mean?
An anodized aluminum coating is durable, hard, will never peel and under normal conditions will never wear through. The purpose for the process of anodizing is to form a layer of aluminum oxide that will protect the aluminum beneathe it. The aluminum oxide layer has a much higher abrasion and corrosion resistance that aluminum.
Cots with U Shaped Legs
Cots that can be folded 2 or 3 times with the legs folding into an underneath the frame are usually cots that have u shaped legs. This type leg design allows the camping cot to distribute the weight of the sleeper more evenly. These cots with U-shaped legs are great for beginning cot users since they do not require any assembly. They are also nice for indoor use since the better distribution of body weight reduces the amount of stree placed on carpeted floors.
---
---
Raising Compassionate Kids - Expose Them To Nature

Nature is so wonderful and has so much to teach both adults and children. Some experts say raising your children around nature can help them understand big picture topics, like empathy at a young age. When children are taught empathy, they become more tolerant adults.
You don't have to necessarily have to get a camping cot and take your kids camping to learn about nature, but you do have to be willing to spend some time with them outside watching and talking about nature's gifts. In your own back yard you can find bird's nest with parents raising their young. Get a folding chair for each of you and watch beautiful butterflies flitting around from flower to flower going about their life. There are usually squirrels in most neighborhoods and maybe even a bunny rabbit depending on where you live.
All of these little backyard creatures just need a happy and safe habitat, even if it's just in your backyard. Such a great teaching opportunity for your children to learn about caring about someone besides themselves.
Talk to your children about how the wild animals and even bugs that are in nature around us deserve our respect and understanding as they care for themselves and their young, just as we humans try to do.
Taking your child on camping trips where they can get exposed to more parts of nature is great especially as your child gets older. Let them experience sleeping on camping cots in a tent, listening to the night sounds of nature. You can find lakes and streams where so much more can be learned about life in the great outdoors.
Just going to a nearby park and observing the different animals there can be great fun and a great learning experience. Talk to your children about how the animals, including bugs, cope during the changing weather patterns.
I remember as a child in school one of our science projects was to gather leaves from the various trees and scotch tape them onto a piece of paper and then write all about that tree. Was it fruit, nut bearing. How tall would it grow. The name of the tree, etc. Teach your child that it takes sometimes 40 to 50 years for a tree to be grown and that cutting it down should not be taken lightly.
It may not seem so important, but spending time in nature can make a big difference in how your child ends up relating to the natural world and others as they grow into adulthood.