Large Outdoor Family Cabin Style Camping Tents
Cabin Style Family Camping Tents Dec 20, 2018 - Near-vertical walls on cabin style camping tents will give you maximum overall peak height for tall people and overall livable space for your camping family and friends. Some of the cabin style tents come with nice features like room dividers for privacy, awning or vestibule for sun and rain shelter for your gear, etc.
You want your tent shelter to be large, roomy and comfortable. Yet, you need to think about what type of vehicle you drive and how easy it is going to be to transport your tent. Plan ahead as to setup space you will have for your tent at the location where you are going to camp.
If you are also tall in height and looking for more headroom in your tent, then check out these popular cabin style camping tents with tall center ceiling heights for 4 persons to 12 persons..
Coleman 6-Person Family Camping Instant Cabin Tent
Enjoy every moment of your outdoor camping adventure in this family-sized Coleman 6-Person Instant Cabin Tent.
This Coleman cabin tent is made of fabric that's twice as thick as standard material, making it less likely to rip than other camping tents.
Fully taped camping tent, so no rainfly is needed.
This instant cabin tent can be set up or taken down in just minutes.
Has 2 inner storage pockets and tent fits 2 queen-sized airbeds.
6' 2" ceiling height for room to stand and move around.
Dimensions: 10' x 9' x 6'.
16 and 20mm steel poles for strong winds.
more...
Tahoo Gear Prescott 12-Person Family Cabin Tent with Room Divider
Regardless of where you are going for your relaxing weekend outdoors, this Tahoe Gear 12-Person 3-Season family cabin tent will allow you to settle in comfortably.
Features a unique shape with a generous roof height for moving around.
Comfortably sleeps 10 to 12 campers.
Easy to assemble shock corded fiberglass poles allow for easy set up.
The Prescott has an open and airy design including floor air vents to further increase ventilation.
Room divider provides privacy to either side or can be open for one large open space.
Large zip windows and rain fly for incliment weather.
more...
Tahoe Gear Ozark 16 Person Large Family 3 Season Cabin Tent
<!!-- End of div before img-container -->
Large yet practical and comfortable, the Tahoe Gear Ozark cabin tent is perfect for groups and families while camping.
Large windows zip completely closed for sleeping and open for use as a screen room on those nice days and nights.
Generous 7' center and wall height to allow you to move around easily throughout the tent.
Easy to assemble shock corded poles and pin and ring system allow for quick set up and take down.
Open mesh design provides excellent cross ventilation throughout the tent.
Rain fly canopy extends out over the door for extra coverage and includes guy ropes on each side for securing tent in windy weather.
more...
---
Wenzel Kodiak 9 Person 2 Room Cabin Tent with Room Divider
A literal home away from home, the Kodiak Family Cabin Tent has 2 rooms, straight-walled, high ceiling design for tall person.
With 168 square feet of tent area, the Kodiak sleeps up to 9 people comfortably.
Tent is well ventilated with a large mesh Dutch "D" door, over 7' center ceiling height, 2 bay and 2 picture windows and a fully vented roof.
Stay dry with the full-coverage rain fly and welded polyethylene floor.
Equipped with rear lockers, two gear lofts and two hanging pockets allows you to stay well organized.
Sewn-in room divider creates 2 rooms
more...
Ozark Trail 12 Person 3 Room Instant Cabin Tent, 7 Closeable Windows, Rainfly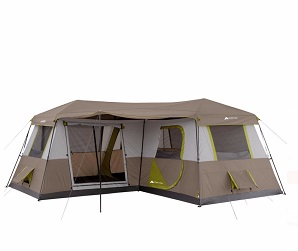 Large cabin tent with 3 Room capability.
The Ozark Trail 12 Person XL 3 Room Family Cabin Tent is easy to setup, no assembly required, poles pre-attached to tent.
Room for the use of 3 queen sized airbed mattresses.
Taped factory sealed provides Dry zone camping with leak protection.
Factory welded 6" tub floor.
There are seven windows that are fully closable.
Electrical cord access to provide all those comforts that electricity can provide.
Carry bag and tent stakes included.
Ground vents fit air conditioner.
more...
Browning Camping / Hunting Big Horn 8 Person Two Room Cabin Tent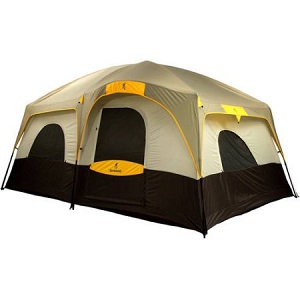 2 Large doors allow easy entry into either room individually of this Browning Cabin Style Tent.
Tent has extra large zippers on the doors and straight side walls allow more room for sleeping cots or air mattresses.
Great ventilation with 2 doors and 6 windows.
Mesh storage pockets to help keep your personal items organized.
Pole clips that quickly snap over the tent poles make it this tent easy to assemble.
Factory sealed fly and floor seams give best weather protection.
Wall divider to create 2 rooms.
more...
---
Coleman Echo Lake 8 Person Fast Pitch Cabin Tent
With the new Coleman® Echo Lake Fast Pitch cabin tent you will have 2 built-in cabinets with shelves to make keeping your gear organized and try very easy.
This tent has a peaked roof which provides enhanced wind and rain resistance.
Room divider for extra privacy and an E-port makes it easy to bring electrical power inside your tent.
Spacious interior has a 7' center height and room for 3 queen airbed mattresses.
Up to 20% faster setup and 75% more water resistant than a comparable standard Coleman® tent with conventional setup.
more...
Trek Tents 245C Canvas Family Cabin Tent with Rainfly 7 Person
With this Trek Tent you get 100% cotton walls and roof and a heavy-duty vinyl-coated canvas floor for long wear.
There is a nice wide front screen door with zip rain flaps.
Three extra large screen windows with inside zip storm flaps an no-see-um mesh screens.
Center ridge has sleeve pole tunnel for "no-sag" appearance.
This cabin tent is good for all seasons.
Interior sewn in pockets for storage of your small items.
1" diameter powder coated steel frame.
Chain-linked poles for easy setup.
Rain fly, stakes, storage bags and instructions included.
Sleeps 7 persons.
more...
Eureka Jade Canyon 4 Person 3 Season Cabin Style Tent
If you want more space inside your tent then you will love the cabin style design of the Eureka Jade Canyon 4 tent which has walls that stand more vertical than other tents.
Fits 4 people comfortably, the Jade Canyon 4 features a new Eluminate panel that affixes to the tent ceiling that reflects light from an LED lantern down on the floor.
An E-media Center holds a tablet or iPad in a clear sleeve on the tent wall that enables all touchscreen abilities so that you can have a functioning electronic device close at hand, but not at risk on the floor.
A small zippered eport is located at the bottom of the tent for power cord access.
more...
---
Frequently Asked Questions (FAQ)...
1. I am very tall and need a tent with a some headroom. Is a cabin style tent good for me?

Yes, cabin style tents usually have a tall ceiling. The vertical standing walls of a cabin tent give you more headroom all around the inside of the tent. For example, the Coleman Echo Lake cabin style tent has a 7' center height and the peaked roof provides enchanced wind and rain resistance. The Eureka Jade Canyon is a 4 person stand up tent that you may also like.

2. Do cabin style tents have a lot of windows?

Campers tend to like cabin style tents for camping because of the large windows which give them a great view of nature while sitting cozely in their tent. The Ozark Trail 12 Person Tent shown above has seven fully cloesable windows and a factory welded 6" tub floor.

3. We need a tent where we can set up bunk cots for our kids.

The vertical walls of a cabin tent are really best for your needs. The straight walls and taller center height of cabin tents just give you more room for tent style furniture.

4. My wife is very claustrophobic so what type camping tent is best for her?

The overall volume of a cabin tent is larger and has a more open feel than a dome camping tent and therefore less claustrophobic. The Browning camping Big Horn tent not only has straight walls to give you more volume inside the tent it has 2 doors and 6 windows to help ease someone's claustrophobic feeling.

5. Do cabin tents come with room dividers?.

Yes, they do. And actually because of the tall center height and straight walls you can have two rooms by using the room divider that are rather roomy. The Wenzel Kodiak 2 Room Cabin Tent is a good choice of a camping tent with room divider for multiple rooms.
---
Tips For Making Your Hiking Trip A Safe One
Study the hiking trail you plan to take on your outdoor adventure. Get a map of the area ahead of time but don't forget to take the map with you when you head out.
Consider the trail difficulty level. If you are new to hiking don't take on the most difficult trail right away. If you know someone who has hiked the trail before ask them for tips on how to enjoy your hike and if they had it to do over would they hike that trail again. If you don't know anyone to ask in person then do an online search for the particular trail name and you can probably find comments on some forums or blogs.
You may also be able to use Google maps to look at the trail before you take off on your adventure. Not only look at the trail you will be taking but look at exit routes if there is an emergency like a forest fire or very bad weather brewing.
Things to consider taking with you on your hiking trip:
Fully charged Cell Phone
Food and Drinks, take some extra in case the trip gets extended for some reason or a fellow hiker didn't bring enough for themselves.
Be sure you are dressed for the weather in the area.
Well fitting Hiking boots.
Good camping tent to fit the season.
Sleeping bag, hammock, sleeping mat or pad. Think about the night weather for the area to decide your sleeping environment.
Decide how you will shelter if you encounter heavy rains.
Don't forget your map.
Consider the weight of everything you plan to take because you will be carrying it while you walk the hiking trail. One of the lightweight mylar blankets is a good option to keep you warm and will take up little space in your backpack.
Learn about the animals in the area where you plan to hike and know what to do if you encounter some of these animals while hiking.
Be sure to let friends or family members know where you are going on your hiking trip, when you are leaving and when you plan to return. If you fail to return on time, then there will be someone to notify rescue personnel and will be able to give them a general location of where you should be.
Many hiking parks in the United States have onsite campgrounds. This means you could combine your outing into a hiking and camping adventure for even more fun.